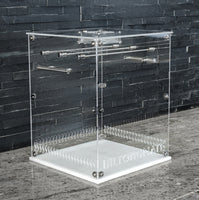 Introducing the BiltongMate
Make delicious biltong right at home! Slice your meat, season it using one of our ready-made spice mixes, marinate and hang in your BiltongMate - let BiltongMate do the rest! Delicious biltong will be ready to enjoy in 3 to 6 days, depending on your taste.
Simple to use and a snap to clean. Add this one-of-a-kind accent piece to your kitchen - or make it the perfect gift with custom engraving. Sleek. Elegant. And totally cool.
The BiltongMate is compact enough to fit conveniently on your kitchen counter, yet large enough to create up to 9 large slabs of biltong per batch.
Proudly made in the USA!
Learn More
Try our delicious ready-made spice mixes!
A lot of time and effort went into crafting and perfecting our proprietary spice recipes.
Try them with your BiltongMate - we're sure you'll agree that they make the best biltong you've ever tasted!
All of our spice mixes are made with the highest quality natural ingredients. They contain no artificial flavorings, colorants or preservatives.
Additionally, our Organic spice mix contains only spices that are certified USDA Organic.
The Spicy version has an extra kick! It has an added blend of chili peppers, including peri-peri sourced from Africa!
Learn More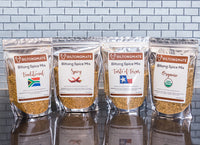 MONEY BACK GUARANTEE
If for any reason you're not thrilled with your new BiltongMate machine, simply return it to us within 14 days for a full refund less shipping.
Testimonials
Wow, we are so impressed! Such high quality and craftmanship!

WB, Bogart GA
The biltong came out perfectly. This really is foolproof!

JD, San Diego CA
This was probably one of the best gifts I've gotten for my husband, he was so excited. The quality is outstanding!

CB, New Braunfels TX
The quality is excellent and even the packaging made me feel like I received a gift worth a million bucks

MS, Chicago IL
Tried the spice for the first time and it was a great success

HW, Richmond VA
Bought it for my son and he loves it, definitely the best gift he has had in a while

RH, Freehold NY
I like the design and clean look of the BiltongMate! It works perfectly!

MS, Colorado Springs CO
This is the best Christmas gift you could give to a South African

DS, Lacey WA
Very modern looking, and looks great on my counter top

RS, Chula Vista CA